Employment tribunal fees won't stop 'vexatious claims'
New rules came into effect today meaning employees will have to pay to take their bosses to tribunal. Don't crack out the champagne quite yet.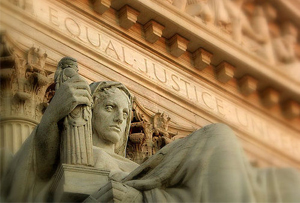 At 5pm on Friday, employees (or, in some cases, ex-employees) lodged the final forms that would allow them to get free employment tribunals. This morning, new legislation came into effect which means those taking their employers to tribunal will have to pay.

Under the new rules, employees will be charged to bring a claim, again if the claim goes to hearing and again for an appeal. The fees range from £250 to lodge a claim for unfair dismissal, followed by another £950 if the employee proceeds; to £160 and then £230 for unpaid wages (which does seem steep considering those making the claim are, by their very nature, a bit short of cash).

Businesses weren't the only ones celebrating when the new rules were introduced this morning: the government reckons it shells out between £74m-£84m a year (depending on which government document you're looking at for employment tribunals. So it's a big win for George Osborne.

Unions are (predictably) up in arms. Outspoken Unite chief Len McCluskey (and David Cameron's BFF) said the government had 'engineered a throwback to the Victorian times', adding that 'ministers are putting up insurmountable financial hurdles for working people in pursuit of justice'.

But (equally predictably) businesses are delighted, saying the rules will tackle 'vexatious claims' which cost them thousands of pounds a year, allowing them to hire and fire with the confidence that spurned employees will only bring cases against them if it's really pressing.

Although not everyone believes the new fees will reduce the number of claims. In an article for MT two weeks ago, employment lawyer Michael Bronstein pointed out the new rules waive fees for those who can't afford it – considering many of those who go to tribunal are out of work, quite a few claims will still go ahead sans fees.

And while the fees might seem high to workers, they're sufficiently low for lawyers to cook up a no-win-no-fee-style system for employment tribunals, meaning the likelihood is that the majority of claimants who don't have their fees waived will still merrily trot into tribunal courts, safe in the knowledge that it'll be the lawyers taking the hit, rather than them.

So the result is that the fees are good for neither employers or their workers. Nice try, though, chaps…
- MT sent its roving reporter into a tribunal. Read about it here.
- Image credit: Flickr/mindgutter