Employment tribunals to see 'radical reform'
Redundancies and tribunals are about to get a complete overhaul, business secretary Vince Cable confirms today.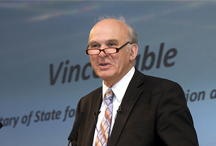 The government is making good on its promise of a 'red tape bonfire'. Business secretary Vince Cable has revealed radical changes to employment law that are set to save business leaders around £40m.

So what's changing? Firstly, the government wants to push through new legislation regarding 'protected conversations', allowing employers to talk to their staff about poor performance off the record. This will reduce the amount of evidence that employees filing for unfair dismissal will be able to bring to their tribunal.
Government also wants to dramatically slash the amount of time it takes to settle job disputes with a new 'rapid resolution scheme'. This is a two-pronged attack on costly, protracted claims. All new claims will now be automatically referred to Acas, the conciliation service, before reaching employment tribunal. If Acas thinks that the claim is groundless, it will be junked with zero bother to the employer. If the claimant does have a valid case, the dispute will be resolved within three months.
In addition, from April 2012 staff will only be able to bring their case to tribunal if they have worked for their employer for two years or more. The current legislation stands at just 12 months.