The end of bricks and mortar? Homebase is shutting 25% of its stores
The home improvement chain has been hit by a falling interest in DIY.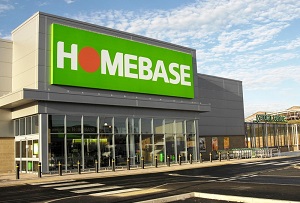 Homebase will close around 25% of its 323 stores by 2018 in a bid to cut costs and become more digitally focused, its parent company Home Retail Group announced today.
Its home improvement shops have long been a lifesaver for anyone who needed a light fitting or a tin of Dulux Vanilla White at short notice, but digital competitors and the rise of a generation who don't know the difference between a claw hammer and a hammer drill have both put a spanner in the works.

Homebase stands in the shadows of bigger brother Argos, which is also owned by Home Retail. Today's half-year financial report said that the latter has made 'good progress' in its transition towards digital retail, rolling out apps and replacing well-thumbed catalogues with online click and collect in its smaller format 'digital stores'. While both reported revenue growth in the six months to August, Homebase has lagged behind when it comes to online sales. It hopes to use its big brother's digital success to improve its own online offering.

'Homebase is a good business with the basis for future growth,' said Home Retail Group chief exec John Walden. 'In this context, Homebase will pursue a three-year plan through to the end of FY18 to improve the productivity of its store estate, strengthen its propositions and accelerate its digital capabilities by leveraging Argos' investments. This will position Homebase as a smaller but stronger business, ready for investment and growth.'
It's too early to tell whether ditching 25% of its stores and investing in digital will be enough to make Homebase a high-performing retailer again. What is clear is that retailers who previously relied on massive store estates are increasingly having to nip & tuck to keep up with changing consumer habits.