The end of the desk job?
One employee leaves at 2pm to go the cinema. Another goes hunting on weekdays. A single mother leaves in the early afternoon to pick up her son from school. Is this a dream? Is there really a company that allows employees to shape their own lives around work, as long as they deliver the goods?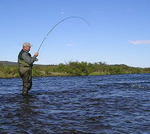 The long hoped-for dream of smart companies in which people are judged by their output and not how long they slump over their desks seems to have arrived at the Minneapolis-based electronics retailer Best Buy Co. The company calls their flexible working system ROWE or 'results-only work environment'.
According to Business Week, Best Buy has finally given employees what the futurists have been bellowing about for years. In the mid-90s, the then head of HR at BT, Bob Mason, used to show a film of empty motorways at business conferences. This was supposed to represent the future once homeworking had taken over the world.
A few years earlier Ricardo Semler's book Maverick seduced HR managers with the tantalising image of a company that gave its employees the power to make decisions about how they worked. Employees could do whatever they wanted, Semler argued, provided they did the work. And his company Semco proved that it could be done.
But despite the the futuristic visions offered by Mason and Semler, the vast majority of people continued to squeeze themselves onto trains, buses and exhaust-choked roads to get themselves to work.
Now, some 15 years later, ultra-flexible working is back. What has changed? Is Best Buy's experiment showing the way forward or is it another flash in the corporate pan? Some 4,000 Best Buy staffers have signed up to ROWE and it has become a good recruiting agent to entice new people.
The initiative started from the bottom up and it has led to a reported 35% increase in productivity in departments which have adopted ROWE. However, the test is yet to come as the company rolls out the scheme to its retail stores. It's worth watching this new experiment to see if it can flourish on a large scale.
By Morice Mendoza
6 December 2006