Is it the end for the euro?
After the bail-outs of Greece and Ireland, the euro's demise is being mooted, even in Germany. Are those who suggest Europeans would be better off going back to their national currencies right?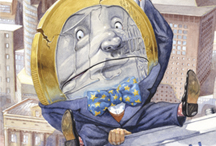 Few people have made their careers as close to the centre of the German political establishment as Hans-Olaf Henkel. After running the European operations of IBM, he headed the BDI, the country's equivalent of the CBI. For a decade, he was the voice of German industry, leading a board that included such business heavyweights as the bosses of Volkswagen, Daimler, Siemens and Deutsche Telekom.
Which was why, in Germany at least, people took notice when last December he published a book called Rettet Unser Geld!. Translated, it means 'Save Our Money' and, over the course of a couple of hundred pages, Henkel argues for the abandonment of the euro as it currently exists and its replacement by two currencies, one for the north of Europe, the other for the south. In the heartland of German industry, the most pro-euro group of arguably the most pro-European country, the survival of the single currency was now a subject of legitimate, mainstream debate. For a man like Henkel to argue for its break-up is rather like the CBI coming out for an 80% income tax rate and the nationalisation of the commanding heights of the economy.
'There is much more group-think in Europe than there is in the UK,' says Douglas McWilliams, chief executive of the Centre for Economics and Business Research. 'If you question the conventional wisdom, you tend to get frozen out of the discussion. But in Germany there is a real sense of the mood shifting. The euro is now being openly questioned.'