England give sports retailers the blues
England's woeful showing in last night's crucial Euro 2008 qualifier has already claimed the scalps of coaches Steve McClaren and Terry Venables, who were both sacked this morning. But the management teams at Umbro, Sports Direct and JJB will be almost as nervous. All three will lose out on millions because of England's non-qualification – and their share prices have plummeted as a result.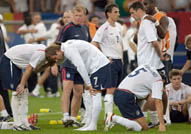 Both Sports Direct and Umbro issued profit warnings this morning, suggesting that 2008 sales would be severely hit by England's absence from the tournament next year. They'd already been struggling after a tough summer, where the bad weather and the lack of football had taken its toll – now it looks as though things are about to get worse.
Sports Direct's share price slid to a record low of 95p this morning, down 16%, after warning that profits for the current financial year would be lower than last year. The stock's now worth about a third as much as it was when the company floated in February, which is hardly going to improve Mike Ashley's popularity in the City.
Meanwhile JJB Sports fell 3%, and Umbro was down 4% after saying there would be a 'substantial reduction in expected sales volumes' of its latest England away shirt. Umbro, which is currently a bid target for Nike, may have been hoping that a positive result would boost its sale price. But no such luck.