England hopes for net gain
If you're planning to watch England's crucial European Championship qualifier against Croatia tonight purely as a nervous football fan, count yourself lucky. Hundreds of retailers, pub landlords and business owners around the country will be looking on in the knowledge that a bad result tonight could cost them hundreds of millions of pounds.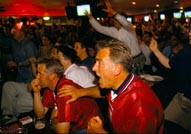 According to the British Retail Consortium, the 2006 World Cup boosted retail spending by about £1bn last summer. The feel-good factor (which typically lasts until we get beaten by Germany on penalties in the quarter final) encourages everyone to spend money: sports shops sell more replica kits; supermarkets sell more beer and party food; home retailers sell more TVs and barbecues – the impact is evident right across the high street.
The leisure industry will also get a shot in the arm. After a year in which the rotten weather has conspired with flooding and the smoking ban to take a big chunk out of sales, pubs can expect a big boost in trade while the competition is on. And bookmakers will be bracing themselves for millions of pounds in patriotic bets – which on past form, is probably money for old rope as far as they're concerned.
Meanwhile some other corporate executives will be chewing their nails down to the bone this evening as they cheer on Steve McClaren's boys. The Football Association will see a massive boost in advertising revenues from its raft of sponsors if the team gets through. And for kit manufacturer Umbro – currently a bid target for Nike – qualification can turn a bad year into a good one. It might even push its price up.