Was enterprise czar right to say we've 'never had it so good'?
We can kind of see where Lord Young was coming from. But it was a daft thing to say, especially as the PM's enterprise advisor.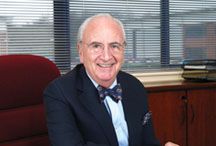 Not a good day for Lord Young: the Prime Minister's newly-appointed enterprise advisor is newly out of a job after telling the Daily Telegraph that, despite all this 'so-called recession' chat, most of us have 'never had it so good'. The peer's point was that with interest rates so low, lots of people are better off because they've seen their mortgage payments plummet. And in some ways he's right. But it's a rather simplistic way of looking at things, particularly for a guy who's supposed to be advising on a pretty complex area of Government policy. So his resignation today doesn't come as a complete surprise...

Lord Young told the Telegraph that 'for the vast majority of people in the country today, they have never had it so good ever since this so-called recession started' - because low rates had lopped hundreds of pounds off their mortgage bills. And he wasn't finished there. He also said that all the fuss about cuts was overblown (and encouraged by the Government in order to prop up sterling) given that we'd end up with spending back at 2007 levels - when nobody was 'short of money'. In time, he suggested, 'people will wonder what all the fuss was about'. Oh, and the loss of 100,000 public sector jobs a year was 'within the margin of error' for a job market that employs some 30m people. So that's OK then.

The peer has a point, sort of (NB. the Instiute of Economic Affairs thinks so too). For many people, their mortgage remains their biggest single payment every month. So if mortgage payments fall, that leaves them with more money in their pockets. However, that does rather assume that they're still working - which thousands of people aren't as a result of the recession, and thousands of civil servants won't be as a result of the cuts. What's more, with inflation remaining well above target, at a time when most people have had their pay frozen or even cut, our salaries aren't going as far as they used to. Higher taxes - soon to include VAT - will also leave us worse off.

We're all in favour of public figures speaking their mind. And Lord Young is a Government advisor rather than a politician per se. But as someone who holds political office, who's supposed to be looking out for the interests of entrepreneurs and small business owners, these comments are, to say the least, pretty tactless (not to mention naive). The success of UK SMEs depends on a wide range of interconnected factors, and the PM's advisor needs to have a good grasp of this complexity. This episode doesn't exactly bolster Lord Young's credentials in that regard.
Either way, he's clearly had a serious dressing-down from Number Ten, because this morning he said he'd written to the PM apologising for his 'insensitive and inaccurate' remarks. A few hours later, having had some time to reflect, he's apparently handed in his notice. And perhaps he was right to do so; with these comments, he'd probably burned quite a few bridges, both with his political masters and his business constituency.