Entertainment One gets the Spielberg treatment
Peppa Pig phone home? A new venture with the legendary director's DreamWorks studio lifts Entertainment One shares.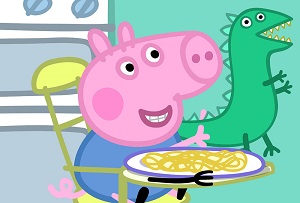 Beloved of three-year olds everywhere, Peppa Pig has been a fruitful cash cow for its creator Entertainment One. The problem with cash cows, though, is that they can easily become one-trick ponies. When kids get tired of the trick, that can end up costing the farm.
Investors should be pleased with the news today that Entertainment One is further diversifying by entering into a joint venture with the mighty American film company DreamWorks, whose principal partner is none other than Steven Spielberg himself. They certainly seemed happy anyway, sending shares up 5.3% to 179.8p this morning.
The joint venture, called Amblin Partners, also involves Participant Media and Reliance Group. It extends an existing arrangement, whereby Entertainment One distributes lucrative DreamWorks films (think Shrek) in the UK and the Low Countries, to cover Spain, Australia and New Zealand, as well as covering the TV, licensing and merchandising categories.