Entrepreneur Q+A: Julie Deane of Cambridge Satchel
The founder of the iconic satchel brand on transforming the business from a kitchen start-up to a worldwide fashion label.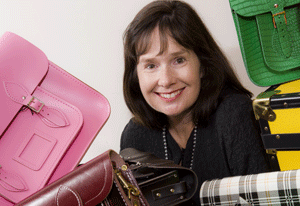 Julie Deane created the Cambridge Satchel company at home with her mum in 2008. Starting with just £600, the business now turns over £1m a month, she employs 80 people and her satchels have been spotted on the shoulders of celebrities from Alexa Chung to the cast of Mad Men.

Deane speaks to MT about why she started the business, her commitment to UK manufacturing and how she's preparing for the opening of her first shop, in London's Covent Garden, this week.


How did Cambridge Satchel grow so quickly?

The internet gave us a tremendous opportunity and it's the reason why Cambridge Satchel has become so successful - despite the company being started during a recession. In the first few months sales were slow and we only sold about one satchel a week. To create some hype, I sent the bags to fashion bloggers to spread the word. Then I got lucky because Universal Records called and said they wanted to order a batch, and soon after Sophie Ellis-Bextor was wearing one. Other start-ups with a large amount of financial investment are able to make a big media splash. Ours was driven by social media and the internet.

You recently appeared in a Google Chrome advert. How did that come about?

The Google advert was fantastic for us - I didn't know such an opportunity existed. They got in touch with us and said a number of people at Google were aware of Cambridge Satchel's story, and it fitted their campaign that the web is what you make of it. I started the company at my kitchen table with a very low budget. I built a free website and spent £50 on Google ad words to get some low budget advertising. I've had to have a new site built, though, because traffic has soared and the old one crashed.

Why are all your bags made in Britain?

Manufacturing elsewhere isn't an option for us. There's an enormous sense of pride in watching the satchels being sewn and made in UK factories, and creating the new jobs to go with it. We make about 900 a day at the moment, which are sold in 120 countries, but we're moving to a larger factory. This week I had a final look at one in Leicester that's three times the size of our current one. People can buy the bags and know that they are supporting jobs and the manufacturing industry in this country.

Why are you opening your first store now?

We had a lot of international customers saying they were visiting the UK and wanted to buy a Cambridge Satchel whilst they were over here. Although we are stocked in stores like Harrods, they don't have the full range. Our shop will have all the styles and colours. I picked Covent Garden because it's so central. We've only got a few days before we open so everything's a bit manic at the moment.

Are you worried about business rates and high rents?


I am concerned, but we're approaching this shop in a different way. Rather than being a traditional shop where people just come in and buy things, we want to make it more of an experience for customers. People can sign a visitors' book, we want photos on the wall of people with their satchels, and we'll be hosting lots of special events. We want to make it an exciting place to visit. Between now and Christmas it's going to be a pop-up shop and our big launch will be during London Fashion Week.

What's the biggest challenge in running your business?

A major hurdle is trying to keep the personality and ethics of the business the same whilst evolving and growing. Cambridge Satchel is very much a family business. At the beginning it was just me and my mum, with some help from my children and even the dog. The business has grown organically – we've never borrowed or done more than we could afford to do. We've never been tempted by investors, but they are in hot pursuit!

- Julie Deane is a finalist in the NatWest everywoman awards. Read more about the Cambridge Satchel Company here.