Entrepreneurialism: The new Rock 'N' Roll
Forget Del Boy, running your own business can now be as glamorous as being in a rock band. We look at this new breed of rock'n'roll business owners.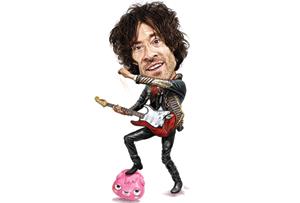 Although given to hot air and melodramatics, Dragons' Den has helped raise the profile of entrepreneurs
---
In an alleyway outside a nightclub in London's East End, I'm trying to interview a man who has just come off stage. He's panting slightly and his make-up - a mixture of glitter and neon-yellow face paint - is smudged with sweat.
We try to ignore a pair of his fans, who are hovering next to us and grinning inanely, exchanging little hushed squeaks of adulation as they wait for a gap in our conversation so they can interrupt. Before they get the chance, though, my man's PR minder sticks her head out of the venue.