Entrepreneurs plan to grin and bear it
UK entrepreneurs seem convinced they can come out of the current upheaval with their businesses intact...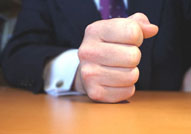 Three-quarters of entrepreneurs are just as or even more ambitious about their business than they were six months ago, according to a new survey by advisory firm Grant Thornton – despite the deterioration in the economic climate. It's not that they're unaware of the pitfalls out there – but it doesn't seem to have shaken their belief that they can come out the other side. Oh for a bit more of that kind of confidence around UK plc at the moment...
Of course, you'd expect entrepreneurs to be 'glass half full' types. But most of them do seem to recognise how tough it's going to be: 66% expect things to take a turn for the worse in the coming year (we admire the optimism of the other 33%), while 55% say their ability to influence their business has been diminished by recent events. But there's no thought of throwing in the towel: instead they're focused on building sales (92% said this was their biggest challenge), maintaining profitability (cited as the biggest concern), and, interestingly, investing in their staff – 98% said they felt a significant level of responsibility for their employees' future, so they're determined to keep developing their people even as things cut up rough.
With the exit environment so weak, entrepreneurs are also being forced to put their retirement plans on hold. According to a survey by Clifton Asset Management, two-thirds of entrepreneurs believe the day they hang up their boots has got a little further away in the last year, while 20% now have no plans to retire at all (to add injury to insult, the stock market turmoil has probably taken a bite out of their pension pot recently too). Yet despite this, Clifton also found our entrepreneurs to be surprisingly chipper: 71% of owner-managers said they were generally optimistic about the prospects for their business.