Entrepreneurs seek easy life?
Small owner-managed businesses are often said to be the engine room of the economy - but according to a new study, many of the entrepreneurs who run them are more interested in maximising their leisure time than generating wealth.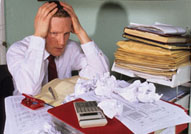 The study, by T-Mobile and Kingston Business School, suggests that a large proportion of entrepreneurs have no desire to follow in the footsteps of Branson, Green et al. A mere 4% of those surveyed by YouGov said they started their business to make their first million, while a third of respondents had no interest whatsoever in their business getting any bigger. Which isn't exactly 'engine room' form.
Instead, people often choose to become an entrepreneur for lifestyle reasons (for example, to spend more time at home and less on public transport). More than half said their only aim was to make a 'comfortable' living for their family, while 46% said they started a business purely to improve their work-life balance.
The irony is that the demands of running a business tend to have quite the opposite effect. Apparently 38% said being an entrepreneur had damaged their relationships with friends and family, and 36% said they struggled to manage their time properly (it's a wonder they were organised enough to complete the survey).

Following the time-honoured 'if in doubt, blame the government' principle, the report's authors conclude that entrepreneurs are not getting enough good advice before starting a business, or suitable incentives to grow their business beyond a 'steady state'. This first idea seems a bit odd - would that involve an official telling them 'don't bother, it's too much like hard work'? And with the best will in the world, who's going to take advice on starting a business from the government? However, they probably have a point with the second – taper relief on capital gains tax, anyone?