Entrepreneurs shy away from Christmas networking
Are SME owners so busy fretting about their business that they're neglecting the key area of networking?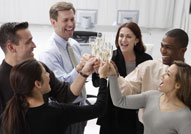 That's the conclusion of new research by T-Mobile, which claims that UK small business owners are going to fewer Christmas parties this year because they feel guilty about leaving the office. 81% of SME top brass said they were spending less time at seasonal shin-digs than they did last year – with the world economy going to hell in a handcart, they clearly feel they ought to have their hand firmly on the tiller, rather than spend time pressing the flesh with a nice glass of mulled wine.
All very noble, but it might be counterproductive. The research also found that 76% of people think face-to-face networking is more important than ever during a downturn. And since people tend to be full of goodwill to all men at this time of year (well, unless they've just been made redundant), Christmas parties could be an ideal opportunity to build a new relationship. 'Understandably many businesses will feel less like celebrating during the festive period but it's essential not to lose sight of important business opportunities,' said T-Mobile's Oliver Chivers. In other words, it's in the best interests of your business to go to as many parties as possible.
On the other hand, you can't really blame SME owners for being nervous. Only today the latest research from the Federation of Small Businesses found that 60% of their members have seen trade decrease in the last two months, while 40% are having trouble with late payments and 30% have seen their finance costs increase. With more than a third now considering cutting headcount, it's not surprising they don't want to be seen glad-handing around parties while their staff fear for their jobs – however important networking clearly is.