Environmentalists target budget airlines
Is the budget airline business under threat as a result of the growing realisation that it is a contributor to global warming?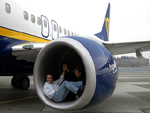 The Stern Report, published recently in the UK, predicted that aviation emissions would almost triple by 2050, by then accounting for 5% of global carbon output.
The fast-turnaround no frills model, which began with Southwest Airlines' radical new low-cost offering in the 70s, has now spawned copycats around the world from Ryanair and easyjet in Europe to AirAsia in the Pacific. So far the business impact of environmental concerns has been minimal, although eco-critics have started targeting the airlines. Named by Ryanair's CEO Michael Leary as 'nuts', some have recently handcuffed themselves to the front steps of easyGroup's HQ in the UK, with one protestor declaring, "Binge flying cannot continue!"
The budget airlines' customers are not likely to withdraw in droves because of any concerns they may have about the damage being done to the environment. The more likely development is that governments introduce green taxes or other measures to change consumers' behaviour.
A tax of, say, $50 will have a massive impact on the budget airlines. The second threat to the industry could come from investors, should a growing number of them choose to take their money away from environmentally damaging industries. Whether this happens or not depends on whether we see the growth of 'environmentally conscious' investors.
Source;
Turbulence Ahead
By Jim Frederick
Time, November 27, 2006
Review by Morice Mendoza