Equipping yourself for the workplace of tomorrow
SPONSORED CONTENT: Fixed desks and desktops are so 20th century. But can the modern worker really be flexible and functional?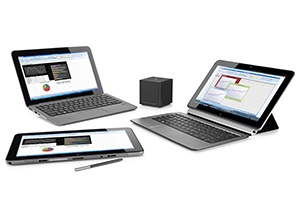 Ask a stranger to close their eyes and imagine the workplace of tomorrow. Those that don't call you a weirdo and cross the street will no doubt describe a glistening glass wonderland with a waterfall, or some would-be coffee shop with bean bags and a ping pong table. But in reality the workplace of tomorrow is far closer than most people think. You're probably sitting in it right now.
Thanks to the power of modern computing and the omnipresence of the cloud, your workplace is increasingly where your employees are. As flexible working becomes a reality, businesses have the opportunity to tap into the full talents of their workers, but also face the risk of being left behind.
Lumping every employee with a 15kg laptop and telling them to
sit where they want isn't exactly an ideal solution, but the lighter tablet-laptop hybrids don't have the necessary oomph for your business needs, right? Wrong. Advances in processing power mean devices can now be truly powerful as well as portable. The HP Elite x2 is a good example. It's the Muhammad Ali of two-in-one devices – nimble like a tablet, but packing the punch of an Ultrabook.