Equity for Punks: Brewdog founders offer shares to barflies
Scotland's largest independent beer maker, BrewDog, rolls out Equity for Punks share scheme through six new bars.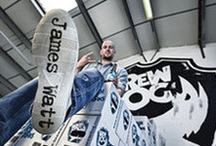 Renegade brewery BrewDog has been shaking up the industry ever since the venture launched in 2007. Co-founders Martin Dickie and James Watt started the business with a £30,000 bank loan, and have since created a portfolio of super-strength craft beers, opening three eponymous bars in Edinburgh, Aberdeen and Glasgow.
The lads have also been masters at manipulating the PR machine, picking a fight with Carling-maker Molson Coors over an advertising campaign earlier this year (they lost, as it happens but that wasn't really the point) and unveiling a host of bizarre, angry and provocatively-named beers from Trashy Blonde to Tactical Nuclear Penguin.
In 2009, the pair launched their pioneering Equity for Punks Scheme. The premise was simple: with your bottle of Hardcore IPA and packet of peanuts, you could also pick up a few shares in the business. 'The banks haven't been lending to small businesses so we needed a way to finance our expansion,' explains Watt. Some 1,000 customers took part in the first round. Now, Equity for Punks is back, bigger and brighter.