Eric Cantona misses target with bank protest
Eric Cantona's attempt to wrong-foot the world's banks by staging a mass withdrawal has ended with the equivalent of a drab nil-nil.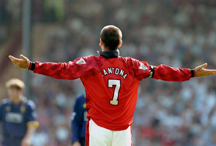 Today was the day earmarked by the former French footballer for his online attempt to orchestrate a run on the banks, in order to collapse Europe's 'corrupt, criminal' financial system.

The former Man Utd icon had set out his plans in a YouTube video, urging three million people to go to the bank, withdraw their cash and watch all manner of fiscal hell break loose. He described the plan as 'a real threat, there's a real revolution'. But rather like England's cock-sure luminaries trotting proudly out to secure the nation's right to host the 2018 World Cup, it looks like he's scuffed it.

Only a few of Cantona's French fans seemed to have heeded his call, France's AFP news agency reported: around 40,000 supporters in France signed up to support his campaign, and it's not known how many actually carried out the act. Cantona himself informed a branch of BNP Paribas in the northern town of Albert that he intended to make a withdrawal of 'more than 1,500 euros' – that's the kind of amount that should leave the international banking community shouting: 'Who are ya?'

To extend the footballing metaphor, Cantona's effort was a case of spotting the keeper off his mark and chancing a lob from the halfway line. While it'd have caused an almighty stir if it hit the back of the net, this one won't even have the banks scrambling to catch it – they can see it's sailing well wide.

Cantona is, however, an arch publicist, and his words have clearly rankled members of the EU, several of whom have now stuck the boot in. The French Banking Federation dubbed his Bankrun 2010 'stupid in every sense'. Meanwhile Jean-Claude Juncker, head of the Eurogroup of finance ministers and PM of Luxembourg, said the idea was 'totally irresponsible'. In Belgium, the head of the country's central bank said Cantona was 'a better footballer than he is an economist'.

Of course he probably won't give two hoots what anyone thinks – he's never been shy of treading a different line when it comes to handling business. Witness his audacious and direct approach to customer relations management, when he launched a flying kick into the stands at an abusive Crystal Palace fan. Or his cryptic attempts at communications: 'When the seagulls follow the trawler, it's because they think sardines will be thrown in to the sea,' he once famously proclaimed.

That much-aped yet acute message was aimed at the press, who were hounding him seeking a juicy story. This was of course at a time when the Frenchman was happier to keep his sardines on the boat. Without wishing to sound as obtuse as our mercurial footballer-philosopher, it seems that now he's freely lobbed his biggest fish back into the water, and the seagulls have perhaps realized that there isn't really much meat on it after all.
As a beautiful post-script, it transpires that Cantona's wife recently appeared in a TV ad for French bank Crédit Lyonnais. Now that's one detail that the French trawlers should be happy to lap up.