Ericsson sinks like a stone
It's not easy being a chief executive. Investors hang on your every word, and you're constantly under pressure to maintain their confidence. But even so, we're guessing that Ericsson chief Carl-Henric Svanberg wishes he'd been a little more discreet when he was in London last month.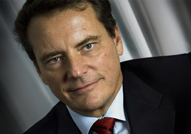 In town for the company's strategy day, Svanberg bullishly told the assembled throng that all was going swimmingly at the Swedish telecoms equipment manufacturer. Market share was up across the board, he said – and there was more to come. "It's an exciting time. It just goes beyond any expectation', he beamed.
Turns out he was right – but probably not in the way he intended. On Tuesday Ericsson admitted profits would be down 36% in the third quarter – not surprisingly, investors promptly dropped it like a hot Swedish meatball, with more than 25% wiped off the company's value in a matter of hours.
Ericsson's woes were not due to handset sales (although its joint venture with Sony also saw profits drop 11% last quarter, after cutting its prices in an attempt to grab market share). The real problem has been the network division, which has been spending more time doing low-margin new network roll-outs in emerging markets, rather than expensive and high-margin upgrades to existing networks. As a result, Ericsson's expected profit margin has dropped from 21.2% to 12.9% in 12 months.