Estate agents are finally embracing the internet
Countrywide, Britain's largest group of homesellers, is launching a fixed-price online option.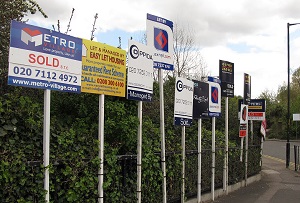 Property technology ('proptech') companies have taken off in a big way in recent years. From Zoopla's listings site to the Housecrowd, which allows members of the public to invest small amounts in houses, there are plenty of techie entrepreneurs trying to skim the cream from one of Britain's most profitable sectors.
But the traditional estate agent has remained a key figure in the house selling process. Fixed price online challengers like Purplebricks and Sarah Beeny's Tepilo have sprung up, raking in investor cash (HouseSimple just bagged another £13m in a round led by Carphone Warehouse founder Charles Dunstone) and staking their claims to a small-but-growing share of the market. But the vast majority of home sales in Britain are still arranged by a local agent with a shop front who charges a percentage of the sale price as commission.
Most of those traditional agents had resisted a shift to online but today Countrywide, the largest group of agents in the UK, announced it would be trialling a fixed fee hybrid service. Customers will receive a face-to-face valuation and then be able to manage viewings and offers online. At first it plans to trial the service with just three of its more than 50 high street brands, in the east midlands and the south-west, but MT imagines more will follow.