Esure snaps up Gocompare in £95m deal
The comparison site's founder Hayley Parsons will step aside but is expected to net £40m.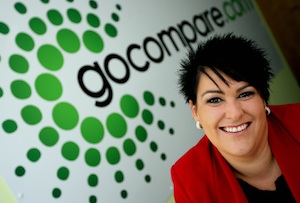 The insurance group Esure has acquired the remaining 50% stake of comparison site Gocompare.com that it didn't already own for £95m. The deal, which is still subject to regulatory approval, values Gocompare at £190m.

Gocompare was founded by Hayley Parsons in 2006 after a successful term at Cardiff-based insurance giant Admiral, where she was part of the team that launched Confused.com. She will step down as chief executive once the deal is closed but stands to net an estimated £40m from the sale.

'I am very proud that a company I started at my kitchen table eight years ago has achieved so much in such a short period of time,' she said. 'I have always said that the staff at Gocompare.com come first and I will always do the right thing by them. As such, Esure's commitment to keep our headquarters in Newport was an extremely important part of my decision to sell the business and I am confident that I'll be leaving it in very safe hands.'

As well as its plans to keep the business in Newport, Surrey-based Esure insists that Gocompare will remain 'strictly independent' (so not giving priority to Esure's products), but given the departure of Parsons it remains to be seen how long that might last. She will be replaced by Jon Morrell, currently Esure's deputy COO.
Esure was itself founded just 14 years ago by Direct Line founder Peter Wood, who is now chairman. Its chief exec Martin Vann said there was a 'significant opportunity' to grow profitability and revenues of Gocompare, which posted pre-tax profits of £25m on revenues of £110m last year. It faces stiff competition from the likes of Confused.com, Moneysupermarket and Compare the Meerkat Market.

MT hopes the change of ownership means Gio Gocompario, the extravagantly moustachioed star of what was voted the UK's most irritating advert of 2009, will not be making a return.