The ethical bra
Sri Lankan lingerie manufacturer MAS Holdings has proved that a philanthropic culture is not a barrier to healthy profits.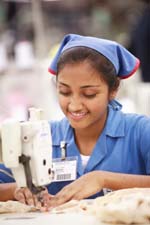 The apparel industry is frequently accused of roaming the world in search of the lowest costs, which may involve using child labour and sweatshop factories. The stigma of being involved with unethical sub-contractors can tarnish a brand for years. Major brands such as Victoria's Secret, Gap, Marks & Spencer and Nike want to protect their reputations as well as their margins by complying with ethical manufacturing initiatives, and they've turned to MAS Holdings, a $650 million apparel manufacturer based in Colombo, Sri Lanka.
MAS has set the global apparel industry standard for compliance by developing Women Go Beyond, a programme to educate and empower its 92% female workforce.
Most corporate social responsibility (CSR) programmes have little to do with a company's strategy, but MAS is trying to differentiate itself strategically from a horde of low-cost competitors throughout the developing world.
Founded in 1986 by brothers Mahesh, Ajay and Sharad Amalean, MAS took advantage of textile trade quotas imposed by the international Multi-Fibre Agreement (MFA) in 1974, which placed restrictions on the export of textiles from the developing world to developed countries. By specialising in lingerie and intimate apparel, MAS was able to focus on a niche market where the quota was more generous. The company subsequently became Victoria's Secret's largest supplier.
Mahesh, the eldest brother, current chairman and former CEO, says: "We focused our business on manufacturing intimate apparel when the rest of the country decided to generalise in the products that they manufactured."
Plants in nine countries (another way to beat the country-based textile quotas) have allowed the brothers to maintain production of more than 44 million bras a year and employ 35,000 people despite Sri Lanka's ongoing civil war. Over the years, MAS has generated double-digit annual revenue growth while avoiding sweatshop conditions and spending 3%-4% of costs on employee and philanthropic programmes.
It provides transport to work, free meals, medical care and on-site banking at all its plants. It also funds hospitals, schools and scholarships in the rural villages where its plants are located. Mahesh says: "We believe strongly that if the people we work with have their basic needs taken care of, they are freer to concentrate on the work at hand and bring out their best."
MAS broke the mould by basing its operations near villages so that workers, mostly female, would not have to leave their families and move to cities.
More usually, women in their late teens would move away from their home villages to the free trade manufacturing zones where they would live in crowded hostels. By building its plants in rural villages, MAS provides local employment and allows workers to remain with their families.
The competitive environment changed in 2005 when the MFA expired (and which by then had been placed under the jurisdiction of the WTO) ending the textile quotas, paving the way for more open, global free trade. Within six months, Chinese textile exports to the EU and the US increased by 534% and 627% respectively. Sharad Amalean, CEO and middle brother, says that they were not discouraged: "These days, it's not just the price. You go to a country because of the service and flexibility."
The Amaleans were already committed to operational efficiency because their customers demanded it. The plants had implemented Six Sigma (a manufacturing process designed to eliminate defects) and MAS had been the first Asian apparel plant to use SAP enterprise software. But even at maximum efficiency, MAS could produce orders in multiples of only 10,000 units and so could not compete with Chinese plants, which push out batches of 100,000.
Instead, MAS spent more on CSR. Its most strategic assets were intangible - a history of fair labour practices and community service, adherence to the United Nations Global Compact on corporate values and its own MAS standard of workplace values (see above). In 2003, the Amaleans hired Ravi Fernando from the pharmaceutical industry as CEO of marketing and branding. Fernando saw the company's labour and philanthropic track record as something worth promoting. However, nearly every board member at MAS was trained as an accountant or engineer, and all were opposed to spending money on a marketing gambit.
Despite their lifelong commitment to fair work practices, Mahesh was the only brother to see the potential of Fernando's Go Beyond programme. Ajay, who oversees the design, human resources, finance and IT functions, says: "To be honest, I was disappointed because we had done it for the last 15 years. When we first started the company, we didn't know about CSR. It was just the right thing to do."
Fernando persisted. "I said: 'Look at all our operational excellence features and rate them. Compare it with our customers' top 10 list of vendor needs.' It became clear that there was not much left for us to fight the battle on." He won over Mahesh Amalean, Deepthi de Silva, director of human resources, and two more board members. In August 2003, the board agreed to allow an internal programme that focused on the workers. Fernando and de Silva researched the best practices at each plant and developed a four-point Go Beyond framework to be the standard at each of the 17 apparel plants: career advancement, work-life balance, rewarding excellence and community action.
Under the supervision of a Go Beyond Champion at each site, every plant is required to offer English, IT and financial management classes, and any other offerings that fit within the framework. "Go Beyond helps individuals enhance their own skill sets and empowers them to feel that their careers are not limited to stitching a garment," says de Silva. "It gives people the ability to take more responsibility and make more decisions on behalf of the company and the customers."
The programme includes a beauty, health and hygiene certificate sponsored by Unilever, in addition to classes on reproductive health, domestic violence, traditional crafts and starting a home business. Fernando had hoped to reach two plants per week, but ultimately it took seven months to roll out the programme to every site. In the first year, the 17 plants held 290 presentations that were attended on average 3.7 times by each worker.
At the end of 2004, each plant chose an Empowered Woman of the Year at a gala event in Colombo. To benchmark the programme's progress, MAS hired a research firm to produce a survey each year. Fernando says: "Ninety per cent of the workers and managers are aware of the programme, but only 40% said they have been genuinely affected so far. Even so, that's 14,000 people. But we have more to do."
The response from industry activists, NGOs and the media has been positive.
"I don't think MAS appreciated throughout the firm, at all levels, the non-technical aspects of labour relations. Over the last few years, this has really changed," observes Gowrie Ponniah, an anti-child labour activist and representative of the International Labour Organization in Colombo.
Now, says Ponniah, other Sri Lankan apparel firms are interested in Go Beyond. MAS has won the American Apparel and Footwear Association award for excellence in social responsibility and has been hailed by the UN Global Compact as an exemplar of best practice. Yet the attention raises watchers' expectations of MAS. De Silva agrees: "We aren't likely to slip up because we are watching the radar closely. If we do slip up, we will pay the price."
However, MAS continues to flourish. "After the MFA ended, we expected prices to plummet," says Sharad Amalean. Instead, MAS' annual growth is in double digits. After Go Beyond started, all four of their major customers - Victoria's Secret, Gap, Marks & Spencer and Nike - increased their business with MAS and made it a strategic vendor in their production plans. In general, major brands concentrate 70% of their orders with fewer than 20 manufacturers, but use several hundred different factories for the remainder of their merchandise. With so many suppliers, ethical sourcing takes considerable effort, but is justified by increasing consumer demand for socially responsible, sustainable and fair-trade products.
Gap inspects every factory in its supply chain for speed, innovation, cost and social responsibility standards, and rejects about 15% of them each year. Dan Henkle, senior vice-president of global compliance and governance at Gap Inc, explains: "We hope that we can begin to relay more information to our customers about how our products are made and that it may eventually get factored into buying decisions."
MAS is now a respected strategic vendor, but competition from China and India remains the biggest challenge. In other industries, a firm might target specific competitors, but in the apparel industry, it's the country that matters. Fernando explains: "Countries' labour laws differ. In China, you can start work at the age of 14. In Sri Lanka, you can't be fully employed until you're 18." MAS has four plants in India, all of which have the Go Beyond programme, and it is exploring in China.
MAS has also invested in its supply chain and expanded into materials and design and product development. As Mahesh says: "We've gone from being a contract manufacturer, where we're given a design, materials and a tech pack, to being able to provide our customer with a fully integrated solution.
The retail market is extremely competitive and they need to focus on that and leave the rest to the vendor base." MAS' best practices have already attracted attention. Nearly 80 MAS middle managers have been tempted away by its closest Sri Lankan rival, Brandix Apparel. De Silva says: "It can be imitated, but MAS is the first one. We're seen as the leader. But I would like to see people aligned with sustainability and put their money where their mouth is and make a commitment."
Fernando's goal is to add a new element to the Go Beyond programme every six months. The community philanthropy dimension didn't fit well within the Go Beyond framework as plant managers were defensive about what they had always done on a local basis. But MAS customers were attracted to the way in which the programme involved the local communities.
As a result, Gap committed $150,000 over three years to Gap Go Beyond, which includes classes about sustainable development at 20 schools, university scholarships for local youth and entrepreneurship workshops for local women business owners. "MAS makes continuous efforts to go beyond the basics," says Henkle. "We thought that the programme would have more impact if it could be extended to benefit women in the community." Now, Nike and Marks & Spencer Go Beyond programmes are in the works.
Ultimately, Fernando thinks that emulation adds to the greater good. "If a global organisation comes to us and says it wants Go Beyond labels to be the global standard for ethical apparel, we will say no problem, because immediately you will have a level playing field."
MAJOR MAS CLIENTS
Victoria's Secret
Gap
Marks & Spencer
Nike
Reebok
Tesco
Sara Lee

PRODUCTS
Bras
Knickers
Pyjamas
Athletic wear
Swimwear
Elastic
Fabrics
Hooks
Lace

LOCATIONS
Sri Lanka (14 plants)
India (4 plants)
Maldives (2 plants)
Vietnam (1 plant)
Other operations: UK, US, Mexico, Indonesia, China

FIGURES 2005
MAS
Revenues: $570m
Workers: 35,000

Sri Lanka
Apparel exports: $2.8bn
Workers: 350,000

China
Apparel exports: $62bn
Workers: 15m

<![CDATA[

MAS' STANDARD OF WORKPLACE VALUES


Human Rights


- We embrace the UN Charter of International Human Rights and the Global
Compact Principles.
- We do not accept any forms of harassment or discrimination, and work in
a culture of equal opportunity, while recognising the contribution that
people with disabilities can make to society and work.
Working at MAS
- No persons below the age of 18 are employed and no forms of forced
labour are used.
- Our working week, including overtime, does not exceed 60 hours in our
apparel manufacturing units.
- We recognise the need to work in partnership with employees, encouraging
them to learn, develop, contribute and achieve a work-life balance.
- We provide, where appropriate, a range of benefits including transport,
meals, health and medical care.
Health & Safety
- We provide a hygienic and safe working environment by training
employees, and ensuring all plants, processes and equipment are designed
with best practices.
- We believe in the systematic assessment, measurement, and monitoring of
risks associated with the business.
Source: MAS Holdings


ON THE SHOP FLOOR AT MA

TNS Kumari is a quality control manager at the MAS Bodyline bra plant in
rural Horana, Sri Lanka, in charge of 250 sewing machine operators and 50
supervisors. She makes daily quality reports on the number of flaws and
negotiates the production process with the cutting department and fabric
warehouse. When the line hits a snag, she troubleshoots with the
supervisors and fixes minor mechanical errors.


Kumari left school at age 18 to become a sewing machine operator at
Bodyline. She had hoped to continue her education, but with five younger
siblings and a widowed mother, she had to start work. She learned how to
sew at MAS, working an eight-hour shift with 2,500 other seamstresses.
Kumari took the English classes offered at the plant and worked her way up
to a supervisor position.
She says: "MAS paid for everything. I had to learn English because our
productivity and efficiency boards are in English and I had to improve my
work knowledge." To earn her next promotion, she moved to the US for six
months of management training, leaving her husband and their child behind.
As a successful manager, Kumari can buy land, a house and a car in a
country where per capita GDP is $965.


THE AMALEAN FAMILY BUSINESS

A privately held company such as MAS doesn't have to answer to
shareholders, so it is easier to commit resources to programmes such as Go
Beyond. But being a family business doesn't blind the Amaleans to the need
for professional management. Mahesh says: "I would do deals with our joint
venture partners and they would send a whole host of vice-presidents
specialised in marketing, legal and finance. I realised that I didn't have
the skill or experience to be able to relate to them. If we were to really
be partners on an equal basis, we needed that skill base within our
company." The Amaleans began to plan their succession after attending a
family business programme at INSEAD in Singapore. In 2005, Mahesh moved
from CEO to chairman to make way for Sharad and eventually the youngest
brother, Ajay.


"We would like to see a younger generation running the place before we get
old, but it doesn't include family. Even if a family member wants to come
in, they'd have to prove themselves," says Sharad. The brothers have
created the Fast Track programme to train potential general managers and
identify those with CEO potential.
MANAGING IN SRI LANKA
"We were born in a hostile environment and managed to grow at a rate of
more than 20% in that environment," Mahesh Amalean says. Sri Lanka's civil
war began in 1983 and the 2002 ceasefire has recently unravelled.
Colombo's business district was bombed in 1996 and again in 1997. Exports
of apparel and tea account for 18% of Sri Lanka's economy and terrorists
recently attempted to attack the Colombo port.
Despite the conflict, Sri Lanka has a comparative advantage in textiles
and apparel due to its established industry, wages and productivity. "We
worked to make sure that our customers saw Sri Lanka as a compelling
destination where lingerie is an expertise and that we had the skill base
to support it," says Mahesh.
Having a strong track record of delivery has allowed MAS to continue to
attract customers. In the past, it expanded into other countries to take
advantage of their quotas and to shift work around when production was
disrupted. Flexibility is essential, as customers charge a late penalty if
delivery is delayed for more than 24 hours. MAS' plan is vertical
integration, manufacturing more of its own materials and opening design
offices in Sri Lanka, the UK and the US.

Noshua Watson is a PhD candidate at INSEAD
Case study: MAS Holdings: strategic corporate social responsibility in the
apparel industry, Jonathan Story and Noshua Watson, INSEAD, March 2006.
Documentary: MAS: a Sri Lankan story, Story Productions,
www.storyproductions.co.uk