EU opens its doors with blue card scheme
Hiring qualified non-Europeans to plug your skill gaps is about to get easier – unless you're in Britain, that is.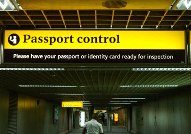 The EU said yesterday that it is launching a new 'blue card' working visa scheme, designed to tempt thousands of highly-skilled workers from outside of Europe to come and ply their trade on the continent. The idea is to replace the current system, in which every country has its own procedure, with a single application process.
Workers who qualify for the blue card (which is intended as the European version of the US green card – see what they've done there?) will be entitled to live and work in Europe for an initial two-year period, bringing their family with them after an initial qualifying period, and will eventually be entitled to permanent residency after five years.
The EU reckons that by 2030 Europe will have a shortfall of about 20m skilled workers, thanks to an ageing population and rapid growth. Making economic migration easier is the only way to plug this gap, it thinks. And currently, Europe is not exactly seen as a hot-spot for talented workers: only 5% of the world's skilled migrants come to the EU, while the US gets a whopping 55% (compare this to unskilled migrants, where Europe gets 85% of the total and the US just 5%).