An EU tax on British banks? Vince Cable says 'Nein!'
Germany has increased pressure on the UK to implement the so-called Tobin tax. Cable has branded the move a direct attack on the City of London.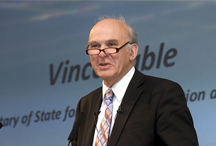 A levy on every financial transaction is 'completely unjustified' says the business secretary. It's no wonder Vince is hopping: London is the financial centre of Europe. Should the tax be imposed, 80% of revenues from across Europe will come directly from our financial services industry.

Vince Cable echoes Boris Johnson's comments last month, saying that the proposed tax would not only cost billions of pounds in revenue but also lead to the loss of thousands of jobs in the UK. 'The purpose of the European proposal is to get more revenue for the European budget,' Cable splutters.
Cable maintains that Britain will not sign up for the tax, insisting that it is up to the eurozone member states to stick to tweaking their own tax system and keep their fingers out of ours. Europe's power over the UK is a bone of contention in Whitehall. The rift between David Cameron and Europhile Nick Clegg is widening by the day as Conservatives and Liberal Democrats squabble over the scale of our independence from Brussels. Vince's surprisingly vocal rejection of the Tobin tax may be an attempt to bridge the Conservative-LibDem divide...

Bank of England governor Mervyn King said yesterday that the eurozone crisis is the single biggest threat to our economy. While the formation of a technocratic parliament (not a politician in sight) in Italy by new prime minister Mario Monti has brought some calm to the markets, a veiled warning from Volker Kauder, sidekick to chancellor Angela Merkel, saying that 'now Europe is speaking German' shows how fast Britain is losing its voice in Europe.