Euro hits new low on ECB QE announcement
Good news for holidaymakers heading to the continent this summer - the Euro hit an 11 yr low as Mario Draghi revealed details of the ECBs quantitative easing plans.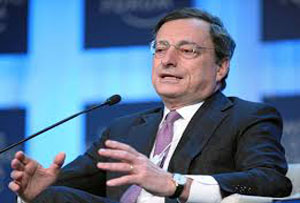 The Euro dropped to just over 1.10 against the dollar – its lowest since 2003 - or 72p against the pound. The reason is that ECB president Mario Draghi today announced the long-awaited details of the bank's radical 1tn Euro quantitative easing plan, a last-ditch attempt to stave off deflation and encourage economic growth.

The ECBs 25 strong governing council met in the Cypriot capital Nicosia today, and finalised details of the QE plan, first revealed in January.

Since the bond markets have had time to get used to the idea, there were no radical changes in yields, but there were still some important questons Draghi answered.
When will the bond buying start? Monday, March 9th. The ECB clearly isn't wasting any time...

How long will it last? Until at least Sept 2016 is the official verdict on this – but as we know from the US and UK QE programmes, weaning banks off free money is a lot easier than weaning them onto it. Draghi refused to be pinned down on an exact end date, saying that it would run until September 2016 or 'until we see a sustained adjustment in the path of inflation'.
The ECB's projections on the Eurozone economy, however, indicate that perhaps it's thinking sooner rather than later. GDP should increase by 1.5% this year rather than 1% as previously forecasted, rising to 1.9% in 2016 and 2.1% in 2017. Draghi did revise inflation down to 0% from 0.7% for this year, but expects it to be up at 1.5% next year.

What will the ECB buy? This is the unusual bit – the ECB will ape US and UK QE for the first time, buying government bonds in the secondary markets. The institutions selling the bonds can then use the proceeds of the sales to lend money and buy other assets, thus (hopefully) kickstarting growth.

But Draghi and his chums have set themselves an ambitious target of buying €60bn Euros of bonds every month. (Yes €60bn). That's rather more than the total issued by all Eurozone governments, so the ECB will likely have to approach existing bondholders and ask them to sell. Given the paucity of alternative safe havens for their money, they may very well not want to...