Euro surges as Draghi wrongfoots currency speculators
The euro gains 3% as the ECB extends QE in Europe - but not as much as expected.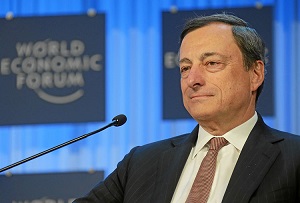 Currency speculators aren't exactly the most sympathetic characters out there, but spare a thought for those who were aggressively shorting the euro in the run up to Christmas. They were left with egg on their face – and less cash in their pockets – after European Central Bank (ECB) president Mario Draghi disappointed them over the scale of Europe's €60bn (£43.2bn) a month bond-buying programme. Is that the sound of the world's smallest violin?
The euro rose 3% against the dollar in a single morning to $1.09 (73p) after Draghi announced he would extend QE to at least March 2017 and lower the overnight deposit rate from -0.2% to -0.3%. That's intended to prop up the Eurozone economy and kick start inflation, which it predicts will rise to 1% next year and 1.6% the year after. The main interest rate remained at 0.05%.
It may be counter-instinctive that Draghi putting even a little extra liquidity into Europe would cause the euro to appreciate, as dollars would surely be more appealing as the US prepares to tighten monetary policy.