Eurobonds proposals cause friction among EU leaders
The German chancellor has always argued for tighter fiscal integration among eurozone members. Although not quite like this...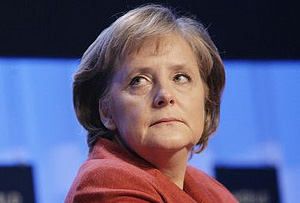 Poor Angela Merkel. After all the hard work the German chancellor has put into keeping the eurozone on an even keel (with, admittedly, limited success), there's a good chance it's about to turn around and bite her in the caboose. Mauler-in-chief is Jose Manuel Barroso, president of the European Commission, who will unveil his plans for eurobonds – a sort of collective European bond to replace individual national ones – later today. Spanish prime minister-elect Mariano Rajoy (current yield on 10-year Spanish bond: 6.49%) is all for the idea – but the German government (current yield on 10-year bonds: 2.04%) is less than enthusiastic.

You can understand Germany's lack of zeal: until now, bailing out its struggling neighbours has been strictly voluntary. But under Barroso's plans, economically stable countries would be forced to shoulder the debt burden of their less reliable neighbours – so while the yield on bonds for the likes of Spain, Italy and Greece would begin to fall, yields for Germany and France would rise.

Now obviously, any changes like this are pretty serious, requiring changes to the EU treaty, so the plans will be debated heavily at a summit on December 9. One of the points EU president Hermany Van Rompuy stressed yesterday was that under the proposals, countries would be forced to undergo far greater scrutiny. The EU says it wants the power to send inspectors into treasuries to go over countries' finances with a fine-tooth comb, and demand changes to the way governments run their finances. Which certainly wouldn't go down well with the independently-minded Germans.

That said, writing off the idea altogether isn't necessarily the right way to go about it. After all, Merkel has been arguing in favour of tighter fiscal integration – which eurobonds would certainly provide. And for countries like Spain, which are currently facing a run on their debt, the idea of being able to borrow up to 60% of their GDP would ease the pressure, at least for a few years.
Spain is a good example: its new PM needs to show voters he can get the backing of Europe to start cutting its borrowing. The danger is that Italy, Greece, Spain et al would see it as a return to business as usual. The risk of turning the credit taps back on is that they'd spend so much they'd bankrupt everyone.

Meanwhile, on this side of the channel, the Bank of England's Monetary Policy Committee has released the minutes of its last interest rate-setting meeting, and it's come over a bit paranoid android. 'Concerns over the sustainability of the public and external debt positions of some euro-area countries had led to increases in the cost of borrowing… and widespread falls in confidence,' it sighed. 'While the worst risks had not so far crystallised, the threat of their doing so had increased, exacerbating the already severe strains in bank funding markets and financial markets more generally,' it added, presumably then glancing upwards, in the hopes that a bowl of petunias or a sperm whale was on its way to put it out of its misery.

The implication of the BoE's sad little soliloquy is, essentially, that the threat to the UK economy from the eurozone crisis is getting a lot worse. Or, as Marvin would say: 'I think you ought to know I'm feeling very depressed.'
- Image credit: Flickr/World Economic Forum