Europe cool on US bail-out plan
The US Senate has approved a revised version of the $700bn rescue package, but Europe seems unconvinced...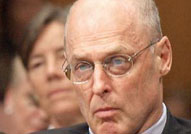 It looks like it might be second time lucky for TARP, after the US Senate voted to approve a new and improved version of the $700bn Wall Street bail-out scheme. Treasury Secretary Hank Paulson has sexed it up by throwing in some extra tax breaks for families and businesses, and extending the level of savings protection from $100,000 to $250,000 – and sure enough it passed by 74 votes to 25. But the bill still has to make it through the House of Representatives – and on both sides of the Atlantic, the chorus of TARP carpers seems to be growing...
Yesterday zillionaire financier (and pound-killer) George Soros told Reuters that the plan was 'ill-conceived', and said the Treasury would be better off taking direct equity stakes in banks instead. The global powers-that-be also seem unconvinced by the idea. The response of all the major markets has been pretty muted since the news emerged – European markets are slightly up today, but Asian markets all closed down. And in Europe, a French plan to establish a Europe-wide €300bn rescue fund has apparently been given short shrift by the UK and Germany (and even France is against the idea of buying up dodgy securities, as TARP will do).
On the other hand, European finance chiefs have to do something. The alternative to concerted action is that every government does their own thing – and as the case of Ireland is proving, that can cause big problems. Since the Irish government decided to guarantee all deposits this week, savers are piling their funds into Irish banks – which is bad news for every other bank in Europe (unless, like Northern Rock, you've been nationalised already). Now European finance ministers are angrily crying foul, and muttering darkly about competition law infringements.