Europe less than united on MiFID
Its name may sound like a slightly embarrassing rash, but today's introduction of MiFID could have far-reaching consequences for the financial services industry in Europe.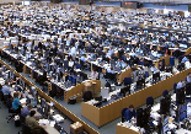 MiFID – or the Markets in Financial Instruments Directive, to give it its (even less exciting) full title – is the European Union's attempt to turn the continent into a single market for trading securities. This includes everything from common-or-garden shares to the complicated derivatives that only a few astrophysics PhDs in the City understand.
The main effect will be to allow international banks and trading platforms to compete with national stock exchanges, which have previously enjoyed a monopoly. But this greater freedom comes with increased responsibility – the newcomers will have to be more transparent about how they go about their business. The idea is this will lead to more competition and efficiency – making cross-border trading easier, cheaper and safer for the investor. All very laudable.
Unfortunately, as you'd expect with a sweeping EU reform, it's not quite as simple as that. For a start, a third of Europe isn't even ready for it. Despite having three years to get their house in order, 10 of the 30 countries involved have admitted that they won't be in a position to implement MiFID today (meaning they'll probably get sued by the Commission).