Europe needs its head in the cloud
Cloud computing could boost the top five European economies by 763bn Euros over five years. That's a handy chunk of change. But they should beware the hype...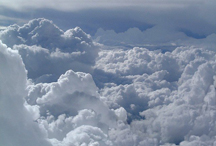 A report from the Centre for Economics and Business Research, commissioned by EMC Computer Systems, says that by adopting the computing technology, Germany, France, UK, Italy and Spain could get an annual boost of 177bn euros, and create 466,000 new jobs a year.

That is of course once they've worked out what on earth cloud computing is. These days it's become a buzzword that's applied to such a baffling range of technologies that the real thing can easily get lost in the haze. Even Microsoft CEO Steve Ballmer was asking earlier this year: 'What the heck is the cloud?' And if the techies are struggling with the terms, what hope the rest of us?

The facts are two-fold: first the cloud is a virtual IT set-up that moves companies' computing services into the hands of external hosts, accessed over the internet, which saves companies cash and energy. The likes of Amazon, Google and more recently Microsoft have pumped billions into developing their offerings. And second it's one of the most ridiculously hyped tech developments in years – every company is now clamouring to stick the word 'cloud' next to everything they sell: from cloud security to cloud kitchen sinks…

In truth there are a heap of benefits to adopting the cloud: infrastructure demands drop, IT becomes a pay-as-you-use utility, just like electricity, and users benefit from the immense power that global providers can harness by pooling computers.

By all accounts the cloud is set to cause a storm in 2011. And with the kind of figures being rained down by the CEBR, you wouldn't blame the Eurozone governments if they started building themselves a ladder right away. As they stare at the threat of a debt crisis spreading from Greece and Ireland to Portugal and possibly Spain, you'd expect them to climb into anything promising them a silver lining.

The trouble with the cloud is there are still loads of risks attached. For one there's the issue around security of your data: if those valuable documents are no longer being kept in-house, do you really know who's got access to them? Anyone may have an interest in sensitive data – you don't have to be Julian Assange of Wikileaks (which was hosted by Amazon, much to the cloud provider's embarrassment). Then there's the question of whether you'll be able to retrieve your data should you wish to move it elsewhere. These and other huge question marks hover above the cloud, but tend to get obscured by the waves of hype and the fog of big numbers.

In that sense, cloud computing is a lot like the Eurozone. When the likes of Ireland signed up to membership of the common currency, it seemed like a golden ticket. Now, as the Irish government prepares to unveil more details of the toughest budget in its history, perhaps the wisdom of the whole thing's starting to seem a whole lot foggier.

Companies considering the cloud could heed take the Irish Euro experience as a warning: when ploughing headlong in a new direction, you want to know you're not about to drive over a cliff…

Do you have any experience - good or bad - of moving your company's systems to the cloud? Share your thoughts below...