Europe is a 'slacker with low expectations', says Paypal founder
The Paypal founder and Silicon Valley investment veteran, Peter Thiel, has said that Europeans have a poor work ethic because of their low expectations.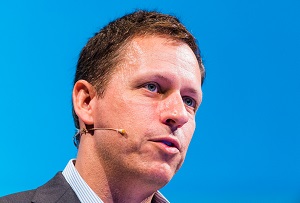 Peter Thiel, the founder of Paypal and one of the biggest names on the Silicon Valley venture capital circuit, has rounded on European entrepreneurs and regulators, accusing the continent of lacking a strong work ethic and being heavy handed with regulations.
'If you're a slacker with low expectations, those low expectations are likely to be met,' he told the FT.
'People in Europe are generally pessimistic about the future, they have low expectations and aren't working hard to change things,' he said.

While pessimism in China motivates people to work harder so they aren't still poor when they reach old-age, in Europe it has a negative effect, he said.

Thiel saved much of his ire for European regulators, who have been battling with tech companies like Google and Uber over how they should be regulated amid concerns over privacy and competition. Acknowledging Google's monopoly over search, Thiel said he hoped the technology industry was dynamic enough that this wouldn't last for ever.

He said, 'In practice, anything [the EU does] to micromanage the Google product will produce a cure that's worse than the disease.'

To his credit, Thiel did acknowledge the strength of London's financial technology sector, suggesting that it had the potential to produce world-class companies in this field. He himself is an investor in London fintech firm Transferwise.

Thiel added that London had overtaken Berlin as the logical place to build a tech company - 'They just work harder here,' he said. Well that's alright then.