European Commission backs Tobin tax
Leaders in Europe have backed proposals to introduce a financial transactions tax that will affect 10 countries on the continent.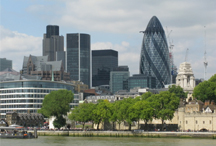 With its diabolical financial plight, the eurozone needs all the help it can get to prevent a complete meltdown, and now the European Commission has concocted a way of raising some more cash. Leaders have agreed on plans for a tax that will be levied on all financial transactions across 10 EU member states, and it is thought that the scheme could raise billions of euros.
The so-called 'Robin Hood tax' works by imposing a tiny charge on transactions of currencies, shares traded through banks and financial institutions, and bonds. Millions of transactions such as these are made around the world every day, so it is thought that the total revenue raised could be huge. Somewhere in the region of 57bn euros per year, if the whole of the EU got involved.
But therein lies an obstacle to the EC's goal of pan-European homogeneity. The UK government has resisted any involvement in such a scheme because of fears that it would disproportionately affect the City of London. Given that London is one of the largest financial centres in the world, we think this is probably a fair observation. Nonetheless, on the continent, Germany France, Italy, Spain, Austria, Belgium, Greece, Portugal, Slovakia and Slovenia have all signed up to the new deal. That 'ever closer integration' mantra is gradually being willed into reality…