European markets are freaking out ahead of US jobs data
A butterfly flapping its wings on Wall Street causes hurricanes on markets in Europe and Asia...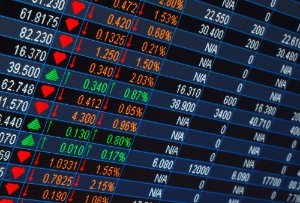 The US figure for non-farm payroll, aka its unemployment figure, is one of those economic indicators everyone worries about. This month more than usual, though: the data, due out today, is causing genuine angst on Wall Street, whose CBOE Vix index of equity volatility, known to its mates as the 'fear gauge', has jumped 35% to its highest level in more than three months.
But it's not just employment that has traders worried (economists have said they want to see a rise in employment of about 288,000, although the real figure is expected to be more like 231,000).
There are also the familiar worries that, as in the UK, interest rates might begin to rise sooner than expected. US GDP grew 4% in the second quarter, data published on Wednesday showed, way better than the 3% analysts had expected. That caused investors to pile out of US bonds yesterday in the biggest selloff since November, pushing 10-year yields up to their highest in more than two weeks.