European markets hang up on Vodafone
Mobile phone operator Vodafone has written down its operations in Spain and Italy by almost £6bn because of tough market conditions.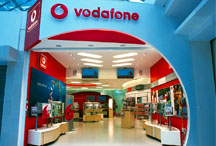 It won't come as any surprise to those who have been following our Euro Saga coverage. But the severely depressed Italian and Spanish economies have pushed Vodafone into a pre-tax loss of £492m for the six months to September 30, compared with £8bn profit in the same period the year before. This is down to impairments of around £5.9bn in those two countries. The firm is putting the disappointing figures down to 'short term' tough trading conditions in Europe. We're not so sure the troubles around the Mediterranean are short-term, however.
But every cloud has a silver lining, or so the group's chief executive, Vittorio Colao, would like investors to think. In a statement, he said: 'We have continued to make progress on our strategic priorities over the last six months, with good growth in data and emerging markets in particular.' To be fair the firm has just received a $3.8bn cash dividend from its stake in US outfit Verizon Wireless, with which it plans to by back £1.5bn worth of shares, which should shore up its financial position a little. Now we can see why Vittoria isn't too worried about Europe.
Unfortunately for Vittorio, though, the European market is a massive part of Vodafone's business, and the statement made clear that bosses aren't expecting the situation to improve much in the second half. Revenues fell a massive 10% in southern Europe, and total group revenue was down 7.4% to £21.8bn. Although the firm did not refer to it, there is also the possibility that new EU restrictions on roaming charges have hit revenues: the extortionate prices operators charged in the past have been reined in at last. Anyway, such gloomy figures are no doubt the reason why Vittorio added ' we remain very positive about the longer-term opportunities'.