Europe's factories grind back into gear
A survey has found output in Europe rose 1% in August - its fastest rise for two years.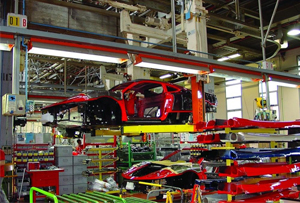 For once, things are going well in Europe: industrial output for the 17 countries in the eurozone grew at its fastest for more than two years during August.

According to figures by Eurostat, output rose by 1% during the month, smashing expectations of 0.8%. The highest riser was Portugal, where factories produced 8.2% more. Given that just 18 months ago the country was on the brink of defaulting on its debts, things are looking up.

Still, the figure is an average: for Portugal's PIIG peer Italy, output fell by 0.3%, its second drop in a row. Given the fact that between them Germany, Italy and France make up two-thirds of the overall output of the entire eurozone, that isn't good news.

The figures came with a graph from Eurostat, which suggests that the overall trend for production since November last year has been upwards – but factories in Europe have a way to go before they hit the same levels as they were at in 2008.
As Chris Williamson, chief economist at Markit, pointed out, while policy makers will be 'encouraged' by the figures, they'll also 'be reminded of the huge surplus of capacity that persists compared to before the crisis struck, which means any growth is unlikely to ring inflationary alarm bells for quite some time'.