Eurostar sales up despite Christmas travel chaos
Eurostar sees annual ticket sales rise 1.7%. Although some buyers may wish they hadn't bothered...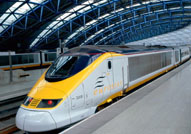 Here's some news that may prompt a wry smile from the 100,000 Eurostar passengers whose Christmas travel plans were ruined by 'fluffy' snow: the cross-channel train operator's sales were 1.7% up last year. Eurostar carried 1.2% more people in 2009, taking its total number of passengers to 9.2m. It put the slight surge in ticket sales down to an increase in tourists using the service – which was a good job, given that the number of business travellers continues to fall. Let's hope last month's unfortunate experience with the 'wrong type of snow' doesn't put them off for life…

All in all, last year wasn't a bad one for Eurostar. It conceded that the downturn had an impact on sales in the first half, but the number of people opting to let the train take the strain increased in the second half (although in hindsight, some may wish they hadn't). Luckily for Eurostar, the declining number of business passengers has been offset by a surge in holidaymakers: 15.6% more leisure passengers used the service last year. Belgium's doing particularly well (perhaps it's the attraction of those Belgian beers): the number of passengers using the London to Brussels line was up 6%. The Paris line was also up, albeit by a less impressive 1%.

In fact, these figures would presumably have been even better had it not been for the chaos on December 18 and 19 – one of the Eurostar's busiest weekends of the year. More than 2,000 travellers were trapped in the Channel Tunnel overnight, many without light or water, after a number of trains stopped working because of the 'fluffy' snow (whatever that means). The ensuing delays meant that more than 100,000 passengers saw their Christmas travel plans wrecked, as they were forced to wait days to travel because of the weather.

And although the Eurostar trains are now running (relatively) smoothly again, the snow is still giving its top brass a headache. The results of an internal investigation are due this month, and Eurostar expects to pay out around £10m in compensation to the affected passengers (and that doesn't even include the small fortune it spent putting stranded travellers up in hotels). But although that will result in an unwelcome hit to the P&L, it will be well worth it if it persuades passengers to keep coming back for more.

In today's bulletin:
Unemployment falls to 2.46m - but beware false dawns
Bank of England 'not fit for purpose' says ex-MPC man
Eurostar sales up despite Christmas travel chaos
Why Kraft takeover will hurt Cadbury's talent production line
Managers failing to deal with underperformers