Eurostar shines bright at 2008 Green Business Awards
Eurostar was one of 12 companies honoured at the second Green Business Awards last night...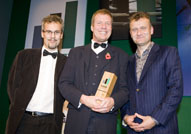 Last night in London saw the final of the Green Business Awards 2008, courtesy of MT, ENDS and HR - a celebration of Britain's most environmentally-friendly and sustainable companies (see slideshow above). And the calibre of applications proved beyond any doubt that UK plc is not giving up its green ambitions in the wake of the credit crunch.
The overall winner for large companies was Eurostar, the cross-channel train operator that is benefiting from increased environmental awareness among European travellers. With a Eurostar journey producing just 10% of the CO2 of an equivalent plane journey, the company is pushing train travel as a genuinely lower-carbon transport alternative. But it's also making strides to reduce its own footprint: it introduced carbon-neutral journeys at no extra cost to passengers, with the help of a carbon offset provider, and it has committed to reducing CO2 emissions per passenger journey by 25% by 2012.
Another big winner was Lancashire-based furniture maker H Berry & Sons, which took home the awards for best SME and best industrial or manufacturing company. Its aim is to be socially responsible in all aspects of its business, and it focuses on sustainability: it procures all its electricity from renewable sources and generates most of its heat by burning wood off-cuts in a low-pollution boiler (eventually, it hopes to shun fossil fuels altogether). In the long run, it wants all its materials to be organically based, sustainable and recyclable - and locally sourced, naturally.