Eurozone unemployment hits all-time high
The number of people unemployed across the 17 eurozone nations has risen by 126,000 over a single month, taking the total number of unemployed to 16.6 million.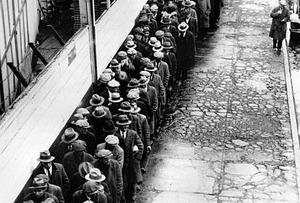 This new data from Eurostat, tallying the number of people out of work as of October, shows a 0.1% increase on the previous month to 10.3%. More alarmingly, the 16.6 million jobless represents an all-time high for the euro era.
It's a pretty frightening time for the eurozone nations. Earlier this week, the OECD warned that recession was nigh. Now these unemployment figures have rubbed further salt in the wound.
What these figures don't take into account is the huge disparity between the jobless rates in different countries. Germany's labour market is positively buoyant: its unemployment rate has actually fallen from 5.7% in September to 5.5% in October, thanks in part to a boom in its industrial sector.
In Spain, it's a different story altogether. The number of people out of work hit 22.8% last month, while Italy's unemployment rate rose to 8.5%.