Even the management can't save Borders
This summer's MBO has apparently failed to revive Borders, which looks set for administration.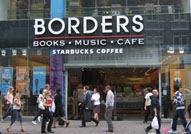 Poor old Borders. With its website closed to trading, three of its biggest suppliers severing ties, staff being told to stop taking orders, and (apparently) security on the doors, the writing seems to be on the wall for the book chain. Not even chief exec Philip Downer, who led a management buyout this summer, has been able to turn the company around since taking it off the hands of Luke Johnson's Risk Capital Partners. Competition has been cut-throat for bookshops ever since Amazon arrived and started eating their lunch – so while Borders' demise is sad, it's not totally unexpected. A sign of the times, perhaps…

Borders (which also owns the Books etc brand) has been haemorrhaging cash for a while now, with pre-tax losses spiralling from £10.3m to £13.6m last year. But it seems like enough is enough for Valco, the private equity firm that backed Downer's buyout: it reportedly called in the cavalry last week to help it wash its hands of the company. Sadly, so far attempts have proved fruitless, with WH Smith walking away from a deal to take over 36 of its 45 stores on Friday. Borders is now thought to be in talks with rivals including Waterstone's owner HMV, in a last-ditch attempt to offload some of its stores.

Borders still has a strong brand name, which may be an attractive prospect for a potential buyer - although nobody's likely to purchase the whole portfolio, so some stores are bound to be lost (along with jobs in them). We all know that shop space is an expensive business, and that's rather a disadvantage when you're competing with internet companies, who don't have the same costs to worry about. And as well as online rivals like Amazon, Borders has also been struggling to survive against competition from the supermarkets, which can buy in huge bulk and sell books at a discounted rate.

Unsurprisingly, concerns about the company's health haven't gone down too well with suppliers. At least two of the UK's biggest book firms, Hachette UK and Random House, have cut off trading with Borders, as has the Independent Alliance, which represents some of the UK's biggest publishers. It's not quite all over yet – the example of Blacks, which has just agreed a deal with its creditors today to salvage the chain, shows that solutions can be found if some of the loss-making parts of the business can be jettisoned. But at the moment, Borders looks likely to go the same way as Woolies...

In today's bulletin:
Lloyds to replenish its coffers with record £13.5bn rights issue
Even the management can't save Borders
British Gas in 'accurate bills' shock
Apple leads tech charge on list of opinion-formers
The Parent Project: My little secret