Are there ever any winners in a price war?
None of the players in the Great Supermarket Price War of 2014-15 is likely to emerge a victor.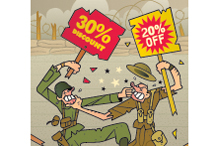 As the commemorations of the 100th anniversary of the First World War draw to a close, one sector of the economy looks as if it might be mobilising for a hugely damaging conflict of attrition of its very own. I'm talking about the Great Supermarket Price War of 2014-15.
'Hard discount' stores such as Aldi and Lidl have thrown a bomb into the nation's shopping aisles by devising a way of selling groceries that is 15% cheaper than the likes of Tesco and Sainsbury's. No surprise that they are popular. In response, many commentators who really should know better are urging the big players to cut prices to compete. The result is a price war - a truly horrible idea. There are three reasons why.
First off, it's too easy. A good strategy is hard to copy. It takes skill and hard work to create an exceptional customer experience, to build an efficient logistics system or engender an emotional connection between customer and brand. If you can, there is a good chance you will reap the benefit for years. When other fools follow suit, the result is that everyone ends up with the same market shares but less revenue.