'Every business needs to prove its model' - Guy Mucklow, Postcode Anywhere
Guy Mucklow, CEO and co-founder of Postcode Anywhere talks about growing his business on a shoestring and the importance of 'scaleups'.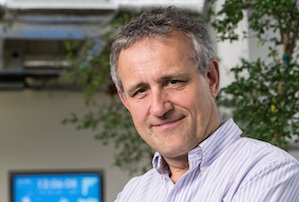 You might not have heard of Postcode Anywhere, but there's a good chance you've used its services. Its technology powers the function on websites that allows you to find your address by just typing in your postcode, and it names Tesco, Royal Mail, Oxfam and Pizza Hut among its 8000-strong client list.

Since its launch in 2000, it's seen annual revenues grow to £10m, its workforce expand to almost 50 people and pre-tax profits rise to roughly £3m. CEO and co-founder Guy Mucklow says it plans to reach £50m in revenue within the next five years.

But unlike a lot of growing tech companies, Postcode Anywhere has decided against taking on external investors, with Mucklow and his co-founder Jamie Turner still retaining the vast majority of equity in the company.

'When I started in business, I thought it was part of the process to go through funding rounds,' Mucklow says. 'It is to some extent. But you can get a business off the ground relatively inexpensively these days, especially as technology costs have come down massively.'

As the business was founded just after the burst of the dotcom bubble, VC funding for small tech companies was extremely hard to come by. Mucklow and Turner had to spend the four years before Postcode Anywhere became profitable living on a seriously tight budget funded by their own savings.

Mucklow, who worked in fund management and his family's property business before taking the plunge into tech startups, suggests this was actually a benefit, because relying on his own money helped instil a greater sense of discipline into the business. He says it also allowed him to focus on building the company, instead of having to worry about chasing funding or looking after investors.

'I see a lot of AIM-listed and VC-funded businesses out there that are losing huge amounts of money and I just don't get it. Every business needs to prove that it's got a commercial, viable business model before it starts throwing loads of money into really scaling the business,' he says.

Mucklow is a board member of techUK, the industry association for technology firms, and says he welcomes a shift in focus away from startups towards 'scaleups' – the latest buzzword for companies which are innovative, but also have a proven business model.

'They are the future of our economy,' he says.