Everything must go at Marks & Spencer
Another blow for M&S, as Per Una boss George Davies leaves ahead of its latest sales push...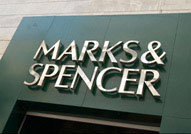 M&S has confirmed that George Davies, the fashion guru behind its best-selling Per Una brand, will be stepping down from his role as chairman at the end of the year. M&S insists there's nothing sinister about the departure, despite the two sides' occasionally prickly relationship. But the timing is still pretty rotten. With retail sales still on the slide – forcing M&S into a one-off one-day sale this week – the last thing it needs is more upheaval…
The departure of Davies – and his daughter Melanie, a Per Una director – has prompted (or perhaps necessitated) a reshuffle of M&S's clothing operations. Menswear boss Julian Kilmartin will also be leaving, while supply chain director Andrew Skinner takes charge of Per Una (reporting to clothing boss Kate Bostock) and womenswear designer Helen Low has been promoted to take over the creative reins. At a time when clothing sales are down across the board, having to reorganise the division that accounts for about a quarter of womenswear revenue isn't exactly ideal.
Davies, who made his name by building hugely successful clothing lines at Next and then Asda, has been widely credited with resurrecting the fortunes of M&S womenswear. Although as you'd expect with these fiery creative types, the relationship hasn't always been straightforward: in 2005 Davies famously walked out on M&S in a dispute over pay, before that old smoothie Sir Stuart Rose talked him into coming back (possibly with the help of an outrageous pot of extra cash).