EVERYTHING YOU KNOW ABOUT BUSINESS IS WRONG: Who wants to live forever?
Most of us - at least those who, like me, have passed the midpoint of our lives - have accepted that we aren't going to live for ever. Companies, on the other hand, seem to find this very hard.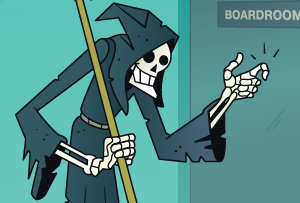 Look, for instance, at the continuing travails of Yahoo. The other internet giants have a clear purpose: Amazon - shopping; Paypal - moving money; eBay - global fleamarket; Google - search. Yahoo doesn't.
This isn't new - there is the famous 'peanut butter manifesto' of 2006 in which a then senior VP said: 'We lack a focused, cohesive vision for our company. We want to do everything and be everything - to everyone. We've known this for years, talk about it incessantly, but do nothing to fundamentally address it... spreading peanut butter across the myriad opportunities that continue to evolve in the online world. The result: a thin layer of investment spread across everything we do and thus we focus on nothing in particular.'
In seven years, what's changed? Newly appointed CEO Marissa Meyer's only major new initiative - the abolition of home working - does little to address that fundamental lack of purpose. Perhaps it's time to accept that Yahoo has simply had its day and move on?