Is ex-Diageo head Paul Walsh taking the wheel at F1?
The straight-talking former booze boss - and last years' MT Most Admired Leader - is rumoured to be on the starting grid for the chairmanship of Formula One.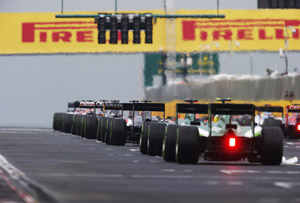 The former boss of the Guinness to Johnnie Walker giant, Walsh left Diageo covered in glory earlier this year, and today is reported to have been approached about taking over the chairman's role at Formula One.

If he gets the job, it could be another step along the road to sidelining long-time Formula One supremo and chief exec Bernie Ecclestone, whose autocratic style has become increasingly at odds with the wishes of 35% shareholders CVC (also in the news today for buying Sky Bet), not to mention many of F1's racing teams and fans.

Following his acquittal on bribery charges in Germany earlier this year, Ecclestone has yet to be re-admitted to the F1 board, a hiatus that seems to be being taken full advantage of by the sports backers (which also include Blackrock and Waddell & Reed). Many followers believe that the ground is being prepared for a possible departure of the octagenarian - and increasingly curmudgeonly - Ecclestone in due course.

Although Ecclestone's role is said not to be under immediate threat, CVC's desire to float the sport is well known. Ecclestone's controversial management style (not to mention the financial travails arising from it) has already caused the shelving of immediate IPO plans. The prospect of getting someone at the wheel with the boardroom clout to put the brakes on Bernie must be quite appealing.

If they do go wheel-to-wheel it could be quite a dice. Ecclestone's wiles and fondness for money - he famously has a bronze sculpture of $1m in cash in his Prince's Gate office - vs Walsh's cool head, FTSE 100 form and world-class management talents. Walsh is, don't forget, a former winner of MTs coveted Britain's Most Admired Leader gong and the man who led Diageo to win sister-award Britain's Most Admired Company no fewer than three times. (Not that he isn't also partial to the folding stuff - his final year package at Diageo amounted to £15m in total).

With that track record, we have to back Walsh for the chequered flag. He is decades younger, too. But the move also raises another intriguing Most Admired-related possibility. MT regulars will know that last year's Most Admired Leader, ex-Sainsbury's boss Justin King (whose son Jordan is a successful Formula 3 driver) has also been tipped for an F1 role.

If King's nose hasn't been put too far out of joint by this story, then a Walsh/King chairman/CEO F1 dream team could ultimately be on the cards. We can see it now - triple nectar card points for every podium finish, and instead of spraying each other with champagne, the victors could splash a bit of Bailey's Irish Cream around instead. Sounds like a winner to us.