Ex-Man United player Louis Saha launches social network for sports stars
The French footballer isn't after a quiet retirement.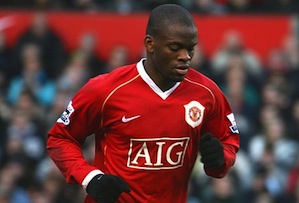 The life of a pundit working on his paunch isn't for Louis Saha. Rather, the ex-Manchester United striker and France international is treading that other well-worn path of celebrity-turned-tech entrepreneur and launching his own sporting social network.

Unlike Sportlobster, which was backed by ex-England footballer Michael Owen last year, or Ryan Giggs and Gary Neville's Café and Hotel Football, this one's not for fans. Axis Stars is designed to let professional athletes, coaches and agents network and 'negotiate business opportunities', alongside managing their club, sponsorship and endorsement contracts.

Saha, who hung up his boots last August, set it up with IT exec Patrice Arnera off the back of their sports consultancy Axis 10, and has the support of Man U's ex-marketer Mike Farnan.

'I wish I had a platform like this as a player; it would have helped me manage my career and plan for the future a lot better,' Saha said. 'The aim is to help drastically reduce the terrifying statistics which show that around 50% of sports professionals go bankrupt after retirement.' (Although he didn't say where he got that stat from.)

'I am more proud of this incredible project than all of my achievements on the pitch,' said the twice Premier League and Champions League winner (but of course).

The site has already signed up current and former footballers Didier Drogba, Phil Neville and Robert Pires and NBA players Nicolas Batum and Boris Diaw, but looks like a bit of a sausage fest at the moment...
Welcome to our latest members (http://t.co/DnZRPU4cN7) #axisstars pic.twitter.com/6r3J0rCInt

— Axis Stars (@AxisStars) October 23, 2014