Exclusive: MT meets Lewis Hamilton
New F1 champion Lewis Hamilton tells MT why teamwork is the key to his record-breaking exploits...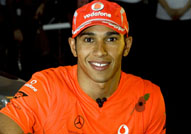 It's been a pretty good week for Lewis Hamilton: since becoming the youngest-ever Formula One world champion on Sunday, thanks to his last-lap heroics in the Brazilian Grand Prix, he's adorned the front and back pages of every newspaper in the country and cemented his status as Britain's biggest sporting superstar. And now, just when he thought life couldn't get any better, he got to chew the fat with MT. We caught up with Lewis at the launch of Vodafone's new Blackberry Storm, so we decided to ask him what his success can teach us about leadership and management.
Because although Hamilton takes most of the plaudits (and rightly so, since he's the one flinging a hunk of metal around a track at 200mph), Formula One's also a team game – at McLaren, there are literally hundreds of people beavering away behind the scenes to make sure he's on top of the podium every race weekend. 'There is a huge amount of people,' agrees the pint-sized megastar. 'You only see a handful on race weekends or test weeks, but when you go back to the factory you see them all working on different components – and you've got to rely on all those people doing their job perfectly. I guess it's similar to a large business – you all have to work together to move forwards.'
However, the pace of change would frighten the life out of most corporates. At testing, the drivers put these components through their paces, and then all the feedback goes straight back to the factory – sometimes, they'll have to go right back to the drawing board. 'The team's evolving so much, and so rapidly,' says Lewis. 'Things are changing all the time – each race there are new wings, new tyres, all these different things… It's incredible the amount of teamwork that goes into it.'