Execs and their cars
From Zipcar and Uber to a Tesla Model S company car, Vicky Parrott talks to three business people about the vehicles they choose to use.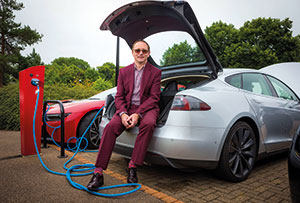 How do business people in the 21st century use their company cars? Indeed, in a world where pay-as-you-go is increasingly the norm, do they even have company cars any more? In a bid to answer this question, MT has rounded up three very different examples of how the execs and entrepreneurs of 2015 elect to travel.
The cars they have to choose from are certainly evolving rapidly - with tough new CO2 rules on the way it's no surprise that the last few years have seen a flowering of diversity among alternative fuel vehicles.
And corporate buyers are as keen as anyone to reap the benefits of lower emissions and reduced fuel costs - last year company car sales accounted for just over half of the UK's 2.47m new car registrations, making the fleet market a huge driver of the push for lower emissions.