Exports up. Imports down. Osborne exonerated?
The trade gap has shrunk by a quarter over a single month, the largest decrease for a decade. Is the Chancellor's economic reshuffling working?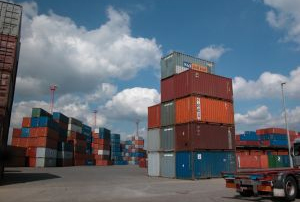 Our trade economy has been steadily overheating. Import spend outweighed our income for far too long: the trade gap hit a record £10.2bn in September. The situation seemed irreparable: no one wanted to buy our wares. Until last month, apparently. New figures from the Office for National Statistics (ONS) show that our exports are suddenly skyrocketing, up by more than £2bn in October to £26.5bn. Plus, we've shaved a few mill off our import bill: from £34.6bn down to £34.1bn.
This has done wonders for our yawning trade gap, narrowing the chasm by £2.6bn, and bringing the current total to £7.6bn, the largest percentage drop since 1998 when records began.
This is far more than market analysts dared hope for. They predicted a slight decrease, but only to around £9.4bn. In fact, we actually managed a trade surplus in our financial services industry last month: our banking and insurance sectors pulled in more than £6bn. George Osborne must be kissing his calculator with pride.