F1's Susie Wolff on how to succeed in 'a man's world'
The former test driver shares the challenges of climbing the ranks and why performance is power.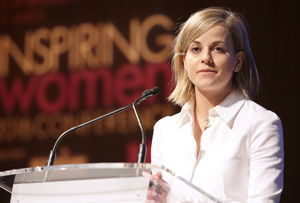 More often than not motorsport is considered a male-dominated world, but former Williams F1 test driver Susie Wolff is adamant that's not the case.
'There are lots and lots of brilliant women in motorsports; they just don't have the spotlight shone on them – they're not out on the racetrack,' she said, speaking at MT's Inspiring Women conference in Edinburgh. And Wolff would know. She's carved out a career – working her way up from karting to Formula Renault and Formula Three, before moving to compete for Mercedes-Benz in the DTM. In 2012, she was signed to work as a development driver for the Williams Formula One team.
'I'd love to tell you it was a seamless journey to the top, but it was tough, it was really tough. And there were more tough days than there were good days,' Wolff explains. 'The harsh reality of sport is that at the end of the day it's only about one winner.' And to date, there hadn't been many women, which threw up other challenges. An example Wolff gives was at the age of 18 and ranked 15th at the World Championships in karting.