Facebook adds BlackBerry as friend
BlackBerry executives flew down to California for a meeting with Facebook last week, sparking rumours of a bid from the social network.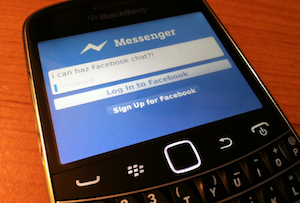 BlackBerry put itself up for sale back in August and where it will end up is anyone's guess – but the latest suggestion is that Facebook will welcome the ailing smartphone maker into its fold, following a meeting between executives at the two companies.

According to reports in the Wall Street Journal, BlackBerry chiefs left their native Canada and flew in for talks with Facebook last week. The paper made it clear it is not known whether Facebook is actually interested in bidding for BlackBerry.

BlackBerry has been scouting around for further offers, following its acceptance of a rather svelte bid from Fairfax Financial – which offered $4.7bn for the company last month. The smartphone maker has until the end of the due diligence period to find other interested parties – the deadline for bids is Monday.

BlackBerry's co-founders Mike Lazaridis and Doug Fregin are also known to be considering bidding, as is Chinese computer giant Lenovo.

It wouldn't be a complete surprise for Facebook to throw its hat in the ring. Rumours the company has been planning its own smartphone have been circulating for years despite Mark Zuckerberg's insistence building its own would be the 'wrong strategy.'

The social network is no doubt keen to put its disastrous tie-up with HTC behind it – the HTC First was known as the Facebook phone and came with Facebook Home (the company's user interface) as standard, but it flopped. Badly.

BlackBerry also comes with a pile of patents, which include security network technology and smartphone component patents – these are reportedly worth between $1bn and $3bn and could be of use to Facebook. Blackberry's messenger tool is also performing well at the moment, with 80 million monthly active users, Zuckerberg's ears are likely to be pricked.

Whether Facebook makes a bid will be apparent by Monday. The two have certainly made their new friendship known, whether we can expect an 'engagement' announcement remains to be seen.